---
TMJ CD albums available right now!
Plus many more available on the "Buy Music" page
CLICK HERE to order
---
Check out "Poetry…..by Debbie Jeffrey" on the schedule page!
---
April 24 – Beatles Request Show!  Badgett Playhouse Theater, Grand Rivers, KY  7 pm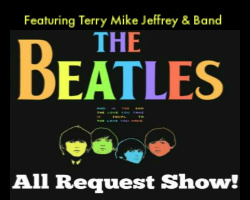 ---
Please note:  TMJ appearances APRIL 25 thru June 10 have been canceled due to health concerns
---
JUNE 11 – TMJ returns to the Badgett Playhouse Theater, Grand Rivers, KY – "ELVIS REQUEST SHOW", 7 pm CST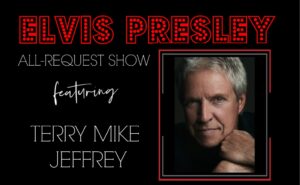 ---
June 25 – TMJ & Glen D. Hardin together again!  Badgett Playhouse Theater, Grand Rivers, KY 7 pm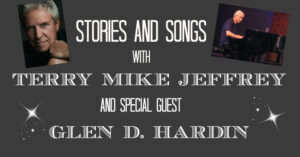 Glen D. Hardin was Elvis Presley's pianist/arranger 1970-1976.  Glen D. also worked with John Denver, Roy Orbison, Bing Crosby, Ricky Nelson, Emmy Lou Harris, Kenny Rogers, and many more!
---

The Elvis Week 2021 schedule has now been announced! Special guests include TCB Band members James Burton and Glen Hardin, The Imperials, Terry Mike Jeffrey, Norbert Putnam, David Briggs, Charlie McCoy, Ultimate ETA Contest winners, and many more!
Check TMJ's "schedule" page, or visit – https://www.graceland.com/elvis-week-schedule-of-events
---
Please go to "Schedule" page for a complete list of TMJ appearances
TMJ & Band with Elvis' TCB Band and the Memphis Symphony
---
The  Band
DEBBIE JEFFREY (keyboards and background vocals since 1974, TMJ's wife), ADAM JEFFREY (son of TMJ, percussion, keyboards, saxophones, vocals)  Adam also has a musical duo with his wife, KRISTIE ("Three Day Flight") and has co-produced studio recordings with his dad. On rare occasions, you might catch ANGIE HUFFORD (TMJ & Debbie's daughter) singing background with the band. Also playing in the studio and at performances, in addition to engineering many of the group's recordings, are: KEVIN SYNAN (bass guitar, vocals) STEVE WALSTON (drums – began drumming with TMJ – Sept, 1966) and TIFFANY OKERSON (background vocals)  The grandkids sing with the band sometimes, too!
There are other musicians that play in the live band periodically, and they include; JEREMY SMITH, BILL ASHLEY (drums), THOMAS MICHAELS (lead guitar), EDDIE HOLLAND, GREG WALKER (bass guitar), SCOT DURHAM (trombone, piano), ANTHONY DARNELL (trombone), PED FOSTER, BO CLAYTON, RICHARD STEFFEN (trumpet), JOEL ROBERTS, RON ROBERTS, TIM ZEISS (saxophone) RACHEL CRICK (violin). And, oh yeah,  Terry Mike sings, plays guitar, piano, and tenor sax.  And acts real goofy.
Be sure to visit the TERRY MIKE JEFFREY FANS facebook page!
(Photo – Savannah Jeffrey)
TMJ Family with Priscilla Presley, Nashville, January 20, 2018