APPEARANCE SCHEDULE
---
Tickets for all Badgett Playhouse shows listed below – 1-888-362-4223, or Website: http://www.badgettplayhouse.com 
---
PLEASE NOTE:  TMJ will NOT be in the "Super 60's" show on MAY 24.
---
May 27 – "Rhythm on the Rails" Outdoor Concert, Discovery Park, Union City, TN
TMJ Sings ELVIS!    Admission is FREE!  Venue opens at 5:30, music at 6:30 pm.
---
May 28  – OUTLAWS OF COUNTRY MUSIC – Badgett Playhouse, Grand Rivers, KY, 7 pm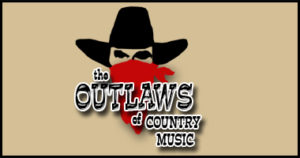 ---
June 3 – ELVIS GOSPEL SHOW – Badgett Playhouse, Grand Rivers, KY, 7 pm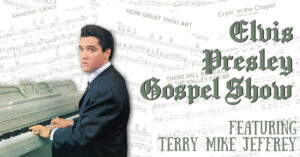 ---
PLEASE NOTE:  TMJ will NOT be in the June 4 "Sounds of Memphis" show.
---
June 11 – "DUELING PIANOS" w/TMJ & SCOT DURHAM – Badgett Playhouse, Grand Rivers, KY, 7 pm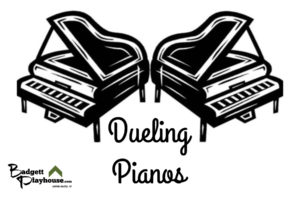 ---
June 18 – "BEATLES ALL-REQUEST SHOW" – Badgett Playhouse, Grand Rivers, KY, 7 pm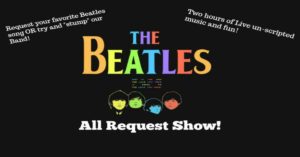 You don't want to miss this one – celebrating PAUL McCARTNEY'S 80th BIRTHDAY!!
---
June 24 – "TRIBUTE TO NEIL DIAMOND" matinee – 2 pm, Badgett Playhouse, Grand Rivers, KY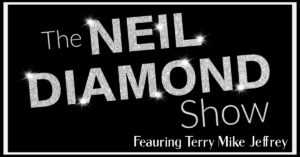 TMJ sings an entire 2 hours of Neil Diamond music!
---
"ALL THE KING'S MEN" – Saturday, AUG 13, 7:00 pm
Soundstage at Graceland, Elvis Presley's Memphis.
Individual Tickets: $87, $75, $65, $55
https://www.graceland.com/elvis-week-schedule-of-events
Celebrate those who shared the studio and stage with the King of Rock 'n' Roll in a jam session that will feature storytelling and live music, all honoring the King of Rock 'n' Roll. Hosted by singer and musicians Terry Mike Jeffrey and Andy Childs, hear stories from TCB Band members James Burton (guitar) and Glen Hardin (piano); Norbert Putnam (bass); and Gene Chrisman (drums) – and enjoy the music of the King of Rock 'n' Roll as they share their favorite songs from the time they spent with Elvis. The show will also feature a tribute to TCB Band drummer Ronnie Tutt. More guests to be announced soon!
---
Did Terry Mike Jeffrey sing in your hometown?
In the USA:
Kentucky:  Paducah, Louisville, Bowling Green, Murray, Mayfield, Benton, Draffenville, Grand Rivers, La Center, Henderson, Radcliff, Fulton, Ledbetter, Cadiz, Symsonia, Maysville, Wingo, Owensboro, Eddyville, Bandana, Smithland, Ft Campbell, Madisonville, Fancy Farm, Central City, Greenville
Tennessee:  Memphis, Nashville, Knoxville, Gatlinburg, Paris, Jackson, Clarksville, Covington, Savannah, Puryear, Franklin, Crossville, Union City, Huntingdon
Mississippi:  Jackson, Tunica, Biloxi, Como, Vicksburg, Meridian, Horn Lake, Oxford, Natchez, Cleveland, Ruleville, Tupelo, Greenville, Philadelphia, Lula, Olive Branch, Starkville
Missouri: St Louis, Joplin, Kansas City, Sikeston, Poplar Bluff, Springfield, Rolla, Hannibal, St Charles, Caruthersville, Ballwin, New Madrid, Cape Girardeau, Charleston, Kennett
Illinois: Chicago, Elgin, Metropolis, Rosiclaire, E. Cape Girardeau, Vienna, Anna, Carbondale, Herrin, West Frankfort, Cairo, Harrisburg, DuQuoin, Chester, Effingham, Muddy, Mounds, Murphysboro, Mt. Vernon, Johnson City, Collinsville, Matoon, Columbia, Muddy
Arkansas:  Little Rock, Blytheville, Helena, West Memphis, Jonesboro, Pine Bluff, Newport
Texas:  Dallas, Ft Worth, Arlington, Houston, Galveston, Grand Prairie
Indiana:  Evansville, Indianapolis, Terre Haute
South Carolina:  Florence
North Carolina:  Raleigh, Charlotte, Flat Rock, Winston-Salem         
Georgia:  Atlanta, Alpharetta, Augusta
New York:  New York City, Buffalo, Queens        
Connecticut:  New Haven, Hartford
California:  Los Angeles, Sacremento, Hollywood, Costa Mesa, Santa Monica, El Toro
Florida:  Jacksonville, Miami, Daytona Beach, Merrit Island, Cocoa Beach, Melbourne
Louisiana:  New Orleans, Shreveport, Bossier City, Monroe, Baton Rouge
Ohio:  Cleveland, Cincinnati, Dayton, Stubenville, Portsmouth, Marietta
Pennsylvania:  Pittsburgh, Wilkes Barre                
Kansas:  Pittsburg, Baxter Springs, Galena    
Alabama:  Birmingham, Bessemer, Huntsville, Florence
Nebraska:  Omaha, Kearney
Colorado:  Denver
New Jersey: Atlantic City
Hawaii: Honolulu
Arizona: Phoenix
Michigan: Detroit
Iowa:  Red Wing, Dubuke, Bettendorf, Davenport
Nevada:  Las Vegas, Lake Tahoe                
West Virginia: Wellsburg, Wheeling
Wisconsin:  Milwaukee,Green Bay, Prairie Du Chein                 
Oklahoma:  Tulsa, Seneca
Virginia:  Blacksburg, Williamsburg
Washington, DC
INTERNATIONAL CITIES:
Canada:  Vancouver, Niagara Falls, Toronto, Montreal, Ottawa
Belgium:  Antwerp, Turnhout, Knokke, Beverenn, Nivelles
Holland/Netherlands:  Breda, Den Haag, Eindhoven, Rotterdam, Dordrecht
France:  Paris, Evian, Marseilles, Sophia Antibes, Nice
England:  Birmingham, Leicester, Taunton, Somerset
Norway:  Oslo, Trondheim
Italy:  Milan
Germany:  Bad Nauheim, Hamburg, Soest
Sweden:  Stockholm, Jenkoping
Switzerland:  Geneva
Russia:  St. Petersburg
Denmark:  Copenhagen
OCEAN CRUISING: 
Hawaiian Islands;  Cozumel, Mexico;  Cancun, Mexico;  Nassau, Bahamas; Virgin Islands; Alaska; British Columbia; Canada; Denmark; Germany; Sweden; Russia
---
Poetry……by Debbie Jeffrey
"THROUGH A MOTHER'S EYES"
Warm wooly blankets, some pink and some blue, drool on chins and on Mommy, too.  Spoons full of pablum decorating the floor, alarms set to go off at ten, two and four,
Midnight rockings and the crack of dawn, sleepytime eyes and half hidden yawns, Four teeth in the front, two bottom, two top.  A belly so full you would think it might pop.
Tricycles, puppy dogs, roller skates, balls, bicycles, kitty cats, and boxes and dolls.  Chocolatey fingers and a jelly smeared face, tiny hands clasped and heads bowed to say grace.
Frogs in the bathtub and bugs in a jar, marchmallows and bubble gum squished in the car.  Skinned knees and brused elbows, hearts broken in two, small arms that reach out for no one but you.
Notebooks and pencils, report cards and smiles, earrings and tight jeans and telephone dials.  Car keys in duplicates, class rings and friends, mini-skirts, long hair and unnerving trends.
A cap and a gown and a kiss on the cheek, a suitcase, a college, an "I'll see you next week".  A husband, a wife, a woman, a man, a tiny new baby.  Life starts over again!
Debbie has spent the past 47 years as a mom and singing background vocals in TMJ's bands.  She's been writing poetry since she was a small child. Her poems "Through A Mother's Eyes", "The Mirror", "Mom", and "If There Were No Tomorrow" have won state and national awards from Creative Arts and Science Enterprise and the Kentucky State Poetry Society. Her poetry has appeared in Berry & Associates Poetry Review; Quiet Times Report; Quiet Times Poetry Quarterly; and Paducah Life Magazine.
---
Be sure to check out the Terry Mike Jeffrey Fans page on facebook!